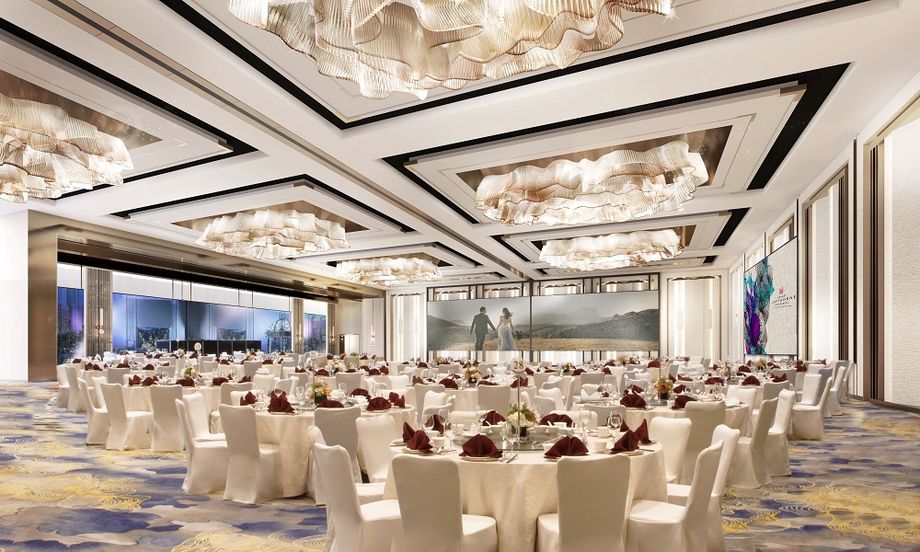 Grand Copthorne Waterfront has concluded its S$30 million (US$22.3 million) renovation project, encompassing all 574 guest rooms and suites with sustainable enhancements, expanded conference facilities, and upgraded event areas.
Being one of Singapore's largest event spaces across three floors, the hotel's Premier Waterfront Room now boasts an in-room filtered drinking water dispenser and floor-to-ceiling windows designed to harness natural sunlight.
Operated under Millennium Hotels and Resorts (MHR), the hotel has made sustainability a central focus throughout its entire setup. Kwek Eik Sheng, Executive Director of MHR, stated, "This revitalization comes at an opportune time for the Grand Copthorne Waterfront Hotel, especially as MICE travel returns to normalcy and physical events resume. With more companies emphasizing Environmental, Social, and Governance (ESG) objectives to minimize impact, the demand for eco-conscious events has risen, with event planners favoring venues that exhibit strong sustainability initiatives."
"We are strategically positioned to capture this swiftly growing MICE market, reinforce our competitive advantage, and bolster Singapore's reputation as a premier sustainable MICE destination for robust business recovery."
The venue has seamlessly integrated high-efficiency technology aimed at reducing electricity and water consumption. It has embraced eco-friendly elements such as in-room water dispensers and implemented new wall coverings and carpets crafted from recycled materials. The venue has also taken a proactive stance towards sustainable practices, including responsible sourcing, recycling initiatives, and effective management of food waste.
Its array of 33 function rooms is equipped with contemporary LED lighting and is bathed in natural sunlight thanks to expansive windows. These rooms offer eco-conscious amenities including recyclable and biodegradable stationery, filtered drinking water, linen-free table arrangements, wireless video signal transmission, laser projectors, and high-resolution 2K to 4K LED video walls for seamless and impactful events. The crown jewel, the spacious 850-square-meter Grand Ballroom, stands as a pillarless space featuring dual enormous LED video walls.
Embracing Sustainability
Aiming to enhance sustainability, the guest rooms feature an in-room water filtration system that provides purified drinking water. This innovative approach reduces the reliance on single-use plastic bottles by a noteworthy 20%, effectively curbing plastic waste.
The incorporation of smart room control thermostats presents another eco-friendly advancement. These thermostats adjust room temperatures in alignment with guest preferences, resulting in energy savings of up to 17%. This not only ensures a comfortable stay but also encourages responsible energy usage.
For added convenience and eco-consciousness, wireless bedside charging technology has been introduced. Guests can effortlessly charge their electronic devices without the need for cumbersome cables.
Furthermore, the inclusion of high-definition smart TVs serves a dual purpose. Guests can stream their preferred movies directly from their smartphones, eliminating the requirement for extra devices and contributing to a more sustainable approach to entertainment.
Elevated Culinary Offerings
Food Capital stands as an expansive all-day dining buffet restaurant. TEMPO Bar & Grill, a cocktail bar, provides alfresco dining coupled with an array of delectable barbeque and grilled seafood delights. Meanwhile, Grand Shanghai is dedicated to serving authentic Shanghainese cuisine.
Distinguishing itself, the hotel's trio of kitchens includes a Halal-certified kitchen to cater to diverse culinary preferences. The Executive Club Lounge, situated on Level 29, has undergone a remarkable transformation. It now boasts a contemporary living room atmosphere that harmonizes with the stunning vistas of Singapore's cityscape. This inviting space caters specifically to "My Millennium Prestige" members and guests on the Club Floor.